Samfruit is one of the largest wholesale producers and suppliers of dried fruits, vegetables, and herbs in Uzbekistan.
Unique natural and climatic conditions give the fruits of Samfruit excellent taste qualities, significantly exceeding the offers of competitors. Due to large-scale production and own gardens, products of guaranteed high quality are always available in any volumes at the most competitive prices.
The main partners of Samfruit for many years are the largest international producers of food, canned and confectionery products: Mars, Nestle, Unilever, Gerber, etc. Guaranteed product quality, modern equipment, impeccable service and individual approach allow the company to build effective, long-term partnerships with each Client.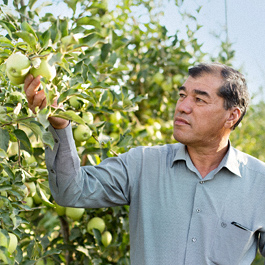 The Uzbek-Swiss joint venture Samfruit was founded in 2002. Today the enterprise owns a 10-hectare plant with its own greenhouses for growing seedlings in the Samarkand district of the Samarkand region, as well as the Samfrut-Organic farm with a total area of 234 hectares in the Nurabad region. Here organic products annually certified by inspectors from the Institute for Marketecology (Switzerland) are grown.
The plant is equipped with the best modern equipment, automated production lines for drying vegetables, fruits, and leaf products, as well as production lines for granules and powder from vegetables, fruits and spices. The company has implemented a quality management system and operates a production laboratory that conducts all necessary tests in accordance with the production control program.